Choosing a dentist is a big decision – you'll want to make sure that the provider you choose combines the expertise you need with a comfortable atmosphere. You have so many options when it comes to choosing a dental provider, and it can be difficult to know which dentists are going to offer you the best value. Mill Dam Dental Care offers experts in Virginia Beach Sedation Dentistry. Here are some tips to help you choose the right sedation dentist for your next appointment.
Get Referrals From People You Trust
If you're struggling to find the right dentist, start by asking your friends and family where they get their dental work done, and if they've had a sedation dentistry appointment specifically. These word-of-mouth referrals are helpful because they give you a place to start your research. You can also have a candid discussion about their experience with the dentist and ask them questions, which can give you an idea of what to expect.
Search Online Medical Directories
If you aren't able to get any referrals from friends and family, you'll need to turn to the internet for recommendations. Luckily, there are plenty of online medical directories that you can search through to find a dentist. The American Dental Association has a comprehensive online directory, and dental insurance providers will also have lists of their participating dentists on their website. In most cases, you'll be able to narrow down your search by location as well as by services offered. This will ensure that the dentists you're looking at offer sedation dentistry services.
Assess The Dentist's Qualifications
Once you've found some potential options for your dentist appointment, your next step is to start researching their qualifications and experience. You'll need to feel totally confident in your dentist's knowledge and ability to treat you with care and expertise. The first thing you'll want to look at is your dentist's education – where did they go to school and how much training do they have? Do they participate in ongoing training to keep up with industry standards?
Next, you'll want to make sure that your dentist is board certified. This is a good indication that they have met industry standards and take their services very seriously. You can look this up through your state's dental board. You'll also want to look at how much experience they have. You may feel more comfortable with a dentist who has years of experience, particularly if you are feeling anxious about your appointment. You will also want to check to see if the dentist has any history of malpractice.
Pick a Dentist That Offers Virginia Beach Sedation Dentistry
Sedation dentistry requires extra training and knowledge, so you will want to make sure that your dentist has the necessary qualifications and experience to offer this service. Not all dental schools teach sedation methods, so you will need to make sure that your dentist attended a school that does. If your dentist offers general anesthesia, they should have the requisite postgraduate degree to provide this service.
Ideally, your dentist should also participate in ongoing training to stay updated on new sedation techniques and best practices. Medical technology is constantly evolving, which is why continual training is so important. Additionally, you will want to find out what your dentist's experience is with the specific service you need. Ideally, your dentist will have performed the same procedure many times and will be able to answer all of your questions.
You'll also want to ask your dentist about the types of sedation they offer and make sure that their services align with your needs. Some dentists offer a full range of sedation, including general anesthesia, while others only offer partial sedation using laughing gas or oral medications. Ideally, your sedation dentist will offer services that fit with your needs and make you feel most comfortable.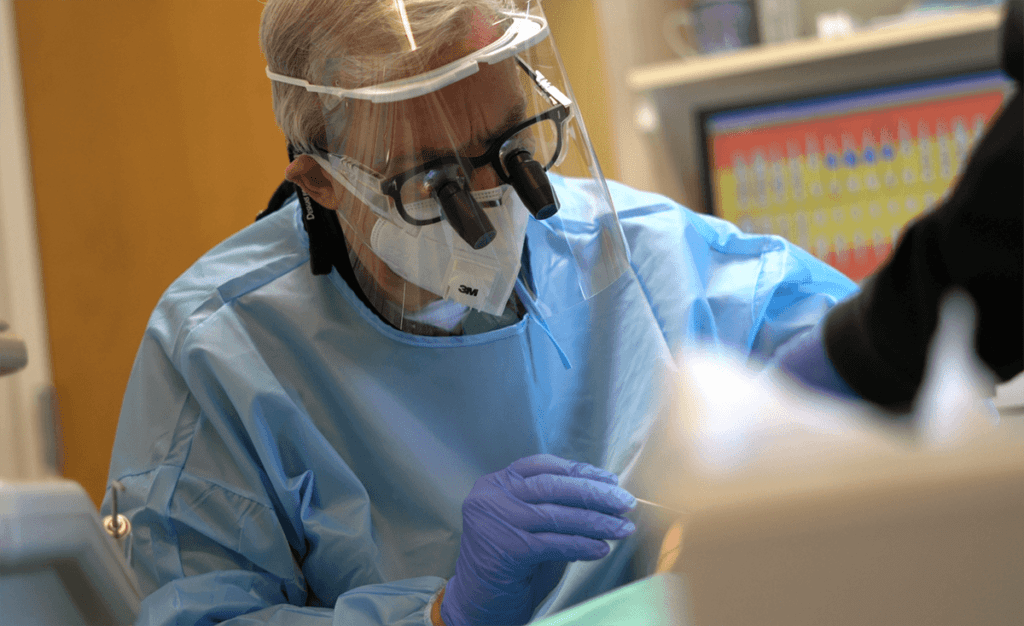 Read Online Reviews
Before choosing a dentist, you may want to read reviews that previous patients have posted online. This can give you an idea of what to expect from the dentist, and alert you to any potential problems. Google and Facebook are a great place to read reviews. It's important to take these online reviews with a grain of salt, as you don't know who's posting them or what their motivations are, but they can give you insight into what the practice may be like.
Have a One-on-One with the Dentist
The next step is to talk to the dentist in person. While you can learn a lot about dental services over the internet, it's essential to have an in-person conversation before you make your final decision. During this conversation, your dentist can walk you through what's going to happen during your appointment and answer any questions you may have. If you struggle with anxiety about going to the dentist, this initial meeting can serve as a helpful preparation for the appointment to come.
It's important to make sure that you feel comfortable and at ease around your dentist. A sense of trust is crucial in this relationship. Pay attention to the way the dentist communicates with you – they shouldn't be rushed or terse, but instead should take time to explain things to you in a way that is informative and will put you at ease. They should also be interested in getting to know you, and should approach your questions with an attitude of concern and care.
Find Out What Payment Methods the Dentist Accepts
The last step in choosing a good dentist is finding out how much they charge and how they accept payment. You'll want to make sure that your dental appointment won't blow your budget. Luckily, most dentists offer affordable payment options for those who don't have insurance. If you can't pay your entire bill at once, ask them if they have any installment agreements available. You may be able to pay your bill over the course of a few months.
If you have dental insurance, you'll need to make sure that your dentist accepts your insurance plan. Depending on your plan, you may need to find a dentist that is within your insurance network. This may limit your options somewhat, but it will also make your treatment much more affordable.
What is Sedation Dentistry and What Are The Benefits?
Sedation dentistry is the practice of using medication to help patients stay calm during a dental appointment. In most cases, patients are moderately sedated, meaning that they are still conscious but likely won't remember the procedure. In some cases, patients are entirely sedated with general anesthesia. Sedation is typically administered using oral medication, laughing gas, or an IV.
Sedation dentistry can make your dental experience better and comes with many advantages for both the patient and the dentist. Many people have anxiety and fear associated with going to the dentist, but sedation can make the experience much more comfortable. Sedation also makes the procedure much easier for the dentist, because there's no muscle tension or gag reflex to deal with when the patient is sedated. This means that the dentist can complete the procedure more efficiently.
You put a lot of trust in your sedation dentist, so you'll want to make sure that the practice you choose offers the knowledge and experience you need, as well as a comfortable atmosphere that will put you at ease. It's worth spending the extra time to research your dental options and find a provider that's the right fit for you. Mill Dam Dental Care is a leading sedation dentist in the Virginia Beach area – contact us today to learn more about our sedation dentistry services.